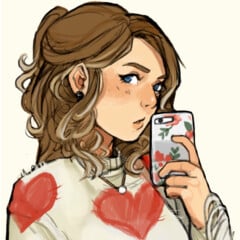 Whitney Lanier
Artist at Lionheart Games LLC
Atlanta, United States
Summary
Hi! My name is Whit,
I am a 3D Artist with a passion for bringing characters to life through modeling and look development. I started out as a 2D artist, but quickly developed a love for 3D.
I have production experience modeling, surfacing, and lighting for children's entertainment, as well as creating low-poly game ready assets.
Skills
Character Modeling
Illustration
Concept Design
Concept Art
Lighting
Character Design
3D Modeling
PBR Texturing
Texture Baking
Rendering
Physically Based Rendering
Shading
Retopology
UV Mapping
Low-poly Modeling
Software proficiency
Productions
TV Production

Elf Pets: A Fox Cubs Christmas Tale

Year

2019

Role

Character & Prop Artist, Character Lighting

Company

Primal Screen

Commercial / Advertisement

Elf on the Shelf: Scout Elves Don't Rest

Year

2017

Role

Modeler, Lighter, Render Management

Company

Primal Screen
Experience
Modeler & Lead Lighting Artist at Primal Screen

Atlanta, United States of America

CG Concept Artist at CCA&B LLC

Atlanta, United States of America

Look development and modeling for an unannounced project

Character & Prop Modeler at Primal Screen

Atlanta, United States of America

Look development, modeling, and texturing of characters and props.

Once my pre-production roles were complete, I transitioned into character lighting and output for final renders.

CG Concept Artist at CCA & B LLC

Atlanta, United States of America

A short contracted position developing characters and props for an unannounced project.

3D Modeler at Primal Screen

Atlanta, United States of America

Here I worked on character and prop models for the children's holiday special: "Elf Pets: Santa's St. Bernard's Save Christmas." I was given an opportunity to contribute to look development, as well as work with final lighting and renders.

Concept Artist & Character Modeling Intern at cW Studios LLC

Atlanta, United States of America

July 2016 - September 2016

Here I worked on character model sheets as well as character modeling for the studio

Assistant/Intern at Paperfinch Design

Atlanta, United States of America

October 2015 - November 2015

Helped manage online store, edited designs in Illustrator, and posted them for sale.

Illustrator at Russ Lanier

Statesboro, United States of America

January 2010 - January 2011

Created designs and illustrations for a childrens' book by Russ Lanier (no relation)